Toucan-WMS, the warehouse management software
«Toucan-WMS» is a warehouse management software that manages all the logistic flows of a company: reception, storage, order preparation and shipping.



«Toucan-WMS» is composed of several WMS (Warehouse Management System) modules covering the different tasks related to warehouse logistics:
Receipt of goods
Storage of items by location
Stock management
Inventory management
Order picking
Packing
Shipping


The WMS software «Toucan-WMS» allows computerized management of the warehouse integrated with the company's other computer systems (ERP, online store, etc.). It controls the management of logistics flows by processing information related to the entry and exit of goods as well as all internal operations that modify the inventory status.

Thanks to its modular architecture, «Toucan-WMS» can be your order fulfillment software offering all the services necessary for the management of a warehouse or simply a goods receipt software, an order picking software, a stock and inventory management software or a packing and shipping management software.

Online demonstration on request...



Functionalities of the WMS software «Toucan-WMS»
The warehouse management software «Toucan-WMS» is a mixed solution with a 100% web component and applications running locally on mobile terminals (PDAs). «Toucan-WMS» can be deployed in SaaS (Software as a Service) mode as a Cloud platform hosted on remote servers or installed on the company's internal servers.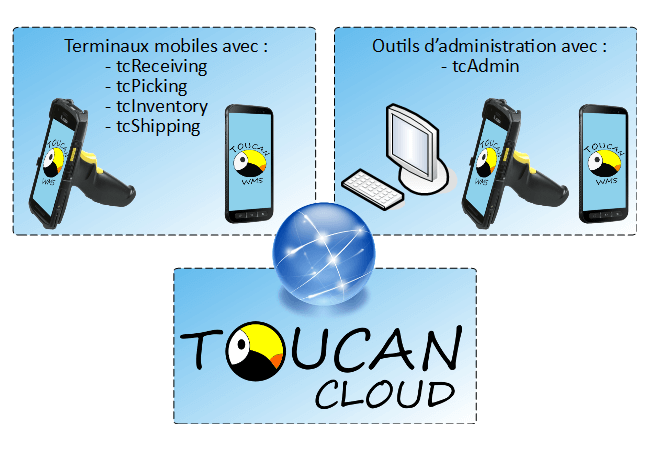 «Toucan-WMS" is first of all an online WMS platform which is accessible from any computer connected to the network. The customer accesses his data and the services provided by «Toucan-WMS» via a web browser through a secure connection using :


tcAdmin = Administration and configuration software of the WMS plateform «Toucan-WMS» (this application can work via a web browser or as an app installed on a cell phone, a tablet or an industrial mobile terminal)


In the customer's warehouse, the operators are equipped with mobile terminals (or PDAs) on which «Toucan WMS» applications are installed:
These 4 applications can be deployed independently.
Advantages of the WMS software «Toucan-WMS» in hosted mode


Several aspects distinguish the WMS software «Toucan-WMS» from other solutions on the market:


It is a professional solution that can be deployed with minimal equipment (a smartphone is enough)


It is an «all-in-one» solution: «Toucan-WMS» also provides the tools to print barcode labels to identify locations and items if they do not have barcodes on their original packaging


Possibility to limit its use to a few functions in order to limit costs (e.g. use only the order picking functions)


No computer skills required on the client side


The care given to the customer interfaces allows an intuitive understanding of the operation of «Toucan-WMS»; this drastically limits the need for staff training


Offers a control of the costs thanks to the savings related to the mode «Saas» with a rent where all is included: Hosting, exploitation, maintenances, updates and correctionsl


Customizable solution according to the business characteristics


Reliable, flexible, easy to implement, quick to deploy solution that covers the main management needs of a warehouse.



What is the purpose of the warehouse management software «Toucan-WMS»?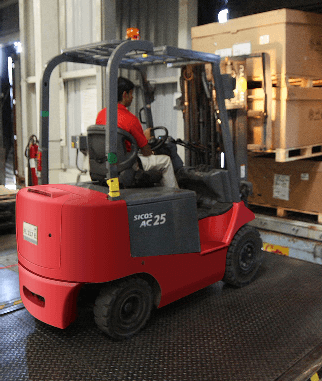 The WMS software «Toucan-WMS» manages the activity of the warehouse and ensures the follow-up of the movements of products, provides a perfect knowledge of stocks in real time, avoids the errors of preparation, ensures the traceability at the level of the packing and shipping.

Through its qualitative and quantitative management, the WMS software «Toucan-WMS» improves the productivity of the warehouse, allows for the best possible adaptation of the resources to be used, optimizes transportation costs and ultimately allows for the control of the company's logistics.


«Toucan-WMS» is a major piece of software in the digitization of the company. «Toucan-WMS» can be integrated into the existing IT infrastructure by connecting to ERP / PGI (Enterprise Resource Planning), e-commerce systems, online stores, carriers' counters in order to automate the entire information chain, from order taking on a web site, to commercial management (sending and receiving goods, invoicing, etc.) to handling work in the warehouse.


Who is the warehouse management software «Toucan-WMS» for?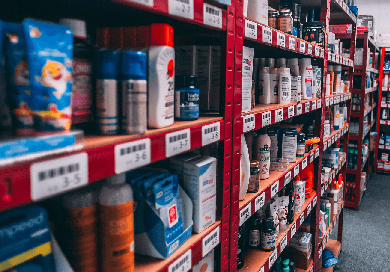 Thanks to its modular approach, the WMS software «Toucan-WMS» is suitable for all customers, from individuals who manage an online store, to small and medium-sized businesses, to large groups with warehouses containing several thousand references.

Depending on the needs, it is possible to deploy only a limited version of «Toucan-WMS»:
The customer starting a webshop activity will certainly be interested only in the order picking function with tcPicking


The medium-sized company that installs systems on its customers' premises will prefer to manage its stock with tcInventory


The wholesaler supplying retail stores or the industrialist will rather want a complete «Toucan-WMS» fully integrated to his existing IT infrastructure
A «Toucan-WMS» platform deployed in a limited version can be extended at any time with additional functionalities.


Is the WMS software «Toucan-WMS» adapted to my activity?
The warehouse management software «Toucan-WMS» can be adapted to all fields of activity that have to manage the movement of goods.

It is particularly recommended for professions concerned with warehousing logistics, management of logistics flows, management of batches and expiration dates, registration of serial numbers, management of carriers, optimization of logistics providers.

Typical business sectors: wholesalers, convenience stores, cosmetics, office supplies, automotive spare parts, industrial supplies, e-commerce...


Can I add to «Toucan-WMS» aspects specific to my business?
Yes, our development teams are available to adapt the «Toucan-WMS» basic software if necessary. A specification is established in collaboration with the customer and a fixed cost offer is then proposed for the realization of the project.


What equipment is required to use «Toucan-WMS»?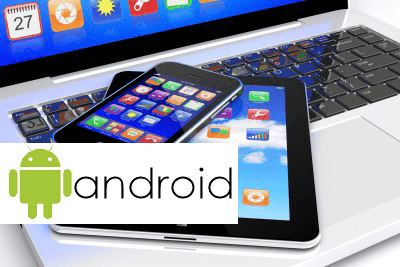 The «Toucan-WMS» solution and data are hosted on the «Toucan-WMS» servers and therefore do not require any investment in equipment other than an Internet connection.

The «Toucan-WMS» applications used on the client side must be installed on Android devices acting as mobile terminals. For this purpose, the beginner can use his Android phone (the camera of the phone acting as a barcode reader), but for an efficient and professional use, it is advisable to use a mobile terminal integrating a barcode reader.

The mobile terminals must be connected to the Internet, either directly via mobile phone or via a wifi network.


Can «Toucan-WMS» be used with all types of barcodes?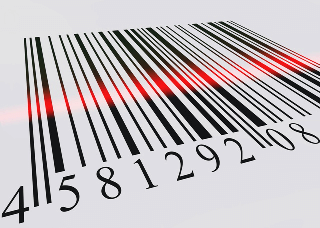 Yes, products and locations must have barcodes for identification. Normally all consumer items are already bar coded on their packaging. In case of items without barcode, a unique barcode must be created for each item. The barcode is then placed on each article or on a generic container containing a given article.

«Toucan-WMS» allows the printing of labels with barcodes to identify products and locations.


The WMS software «Toucan-WMS» is compatible with all current barcode types: GS1 (GTIN8, GTIN13, GTIN14), GS1-128 (Code 128), ITF-14, EAN8, EAN13, Code 39, Code 93, Interleaved 2 of 5, UPC-A, UPC-E, etc. The only limitation is the reading capacity of the mobile terminal used.

The WMS software «Toucan-WMS» can also work with alternatives to barcodes such as RFID (radio frequency identification) chips or Bluetooth Beacon tags (wireless identifiers based on the BLE (Bluetooth Low Energy) standard used in all smartphones and tablets).
What software is compatible with «Toucan-WMS»?
«Toucan-WMS» can operate independently or in interaction with the company's other IT systems.

«Toucan-WMS» is compatible with most ERP software on the market such as SAP or Sage and with most e-commerce platforms such as PrestaShop or Magento.

On request, «Toucan-WMS» can be adapted to other existing systems.


Is there a «Toucan-WMS» version dedicated to professional training?
Yes, the «Toucan-WMS Education» software is designed to equip professional logistics training centres that train future logisticians.

«Toucan-WMS Education» offers all the functionalities of a WMS software but is adapted to an educational use privileging the ease of handling and the simplicity of parameter setting for the trainer.

«Toucan-WMS Education» guarantees training institutions a WMS software in conformity with the criteria imposed by the regulation on the delivery of professional titles in logistics.